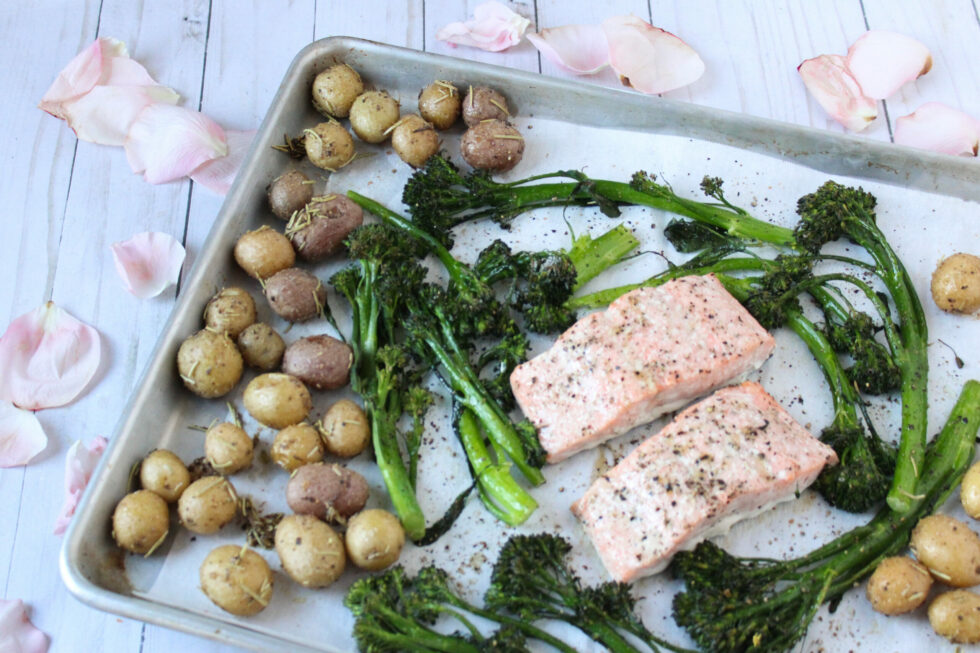 Valentines Dinner For 2

Valentines can take many turns from homemade pizza to surf and turf and we love those options. We're here to offer up another year on 1 sheet pan this year featuring salmon. Salmon can be a hard fish to cook but with this recipe you're sure to nail it for your valentine. Pair with a sparkling water or sparkling wine and enjoy the time of no phones, no TV, and just connecting over a delicious meal.
What You Need
1 bag Broccolini
½ lb. Baby Potatoes
1 Tbsp Dried Rosemary
½ Tbsp. Garlic Powder
½ lb. Salmon
½ Tbsp. Dijon Mustard
½ Tbsp. Rice Vinegar
1 Tbsp. Olive Oil
2 Tbsp. Tomato Sauce
⅛ tsp. Ginger
⅛ tsp. Coriander
⅛ tsp. Thyme
1 tsp. Light Soy Sauce
 How It's Made:
Preheat oven to 400

In a bowl combine the potatoes with 2 Tbsp, rosemary, garlic powder and toss to evenly coat

On a pan lined with parchment paper, place salmon in the center surrounded by the broccolini and the potatoes on the outskirts

Lightly spray salmon and broccolini with avocado oil and season with salt and pepper as desired

Bake for 12 minutes and pull pull off salmon and broccolini

Continue baking potatoes for an additional 15 minutes or until desired crunch

In a bowl combine the dijon mustard, rice vinegar, olive oil, tomato sauce, ginger, coriander, thyme, and soy sauce and mix

Take the sauce and layer it on top of the fish
Calories 497
Total Fat 21g
Cholesterol 57mg
Sodium 554mg
Carbohydrates 44g
Fiber 8g
Sugar 1g
Protein 31g
Ready to Start Shopping?
Get everything you need online!
Shop Online