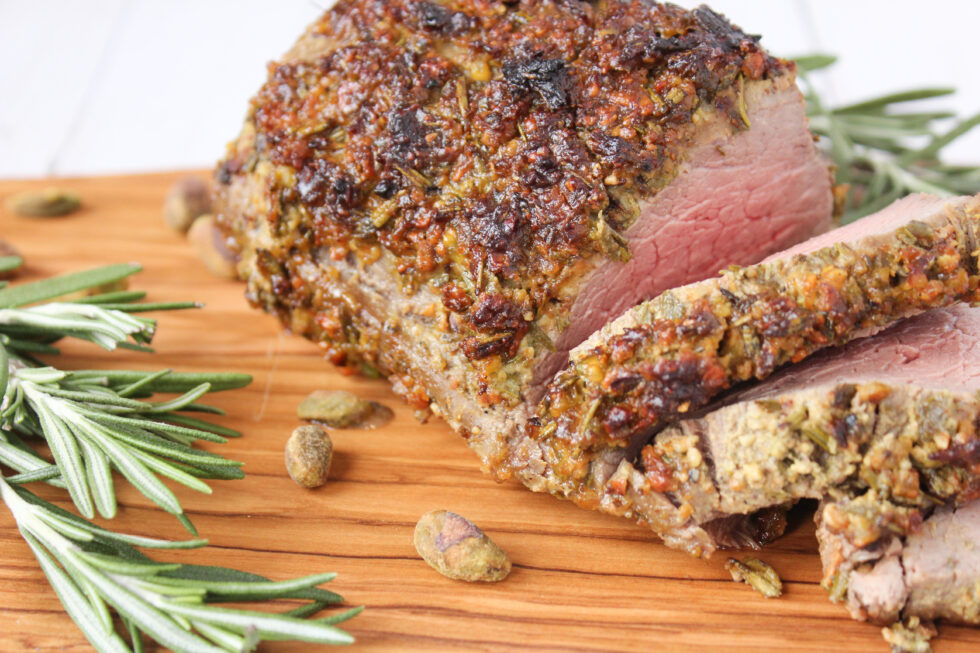 Valentines with Beef Tenderloin At Home

Beef tenderloin, also known as filet mignon, is a beautiful cut of meat. If you can't readily find a long enough piece we encourage you to go to our meat counter and ask them for a specific cut that you need. Our team can cut things as thin or thick as you need for your desired recipe!
What You Need
1 lb beef tenderloin
¼ c. pistachios
¼ c. Fresh Rosemary
1 tsp. Freshly Ground Black Pepper
1 Tbsp. Olive Oil
1 tsp. Dijon Mustard
1 Tbsp. Lemon juice
1 Tbsp. Honey
 How It's Made:
Preheat oven to 425

In a small blender, pulse the pistachios until a powder forms

Mince rosemary

In a bowl mix together the pistachio crumbs, rosemary, pepper, olive oil, dijon mustard, lemon juice and honey into a paste like consistency

Pat and spread over beef tenderloin

Place in cast iron skillet for 25-30 minutes (testing for desired doneness at the 35, 40, and 45 minute marker – the longer if goes the more "well-done" it will become) with 135 being medium rare

Transfer tenderloin to cutting board and tent with foil to rest for 10 minutes

Slice and enjoy
Calories 254
Total Fat 20g
Cholesterol 53g
Sodium 74mg
Carbohydrates 4g
Fiber 0.5g
Sugar 3g
Protein 14g
Ready to Start Shopping?
Get everything you need online!
Shop Online