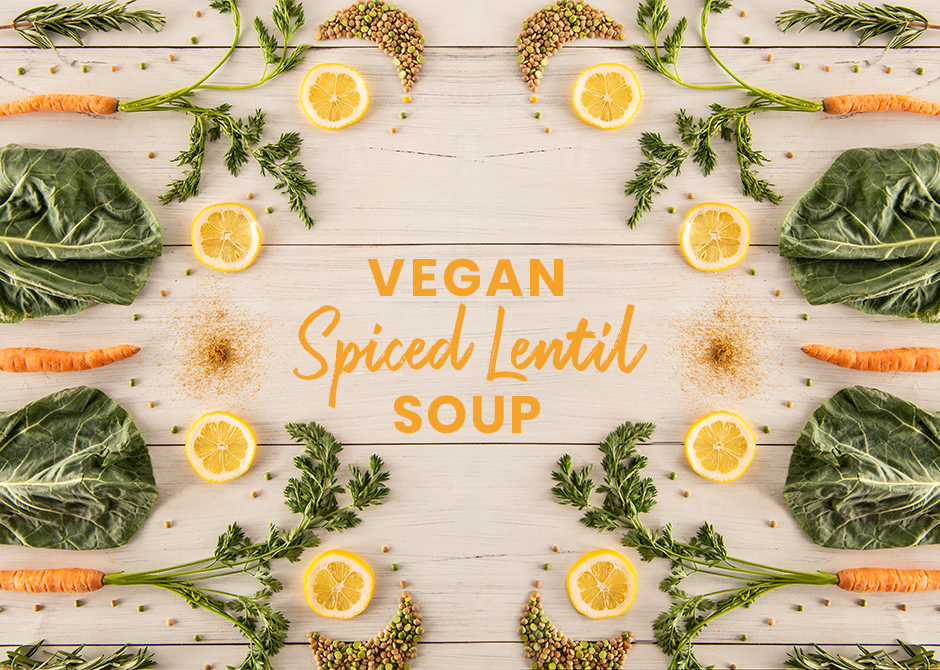 Vegan Spiced Lentil Soup

Have you fallen in love with lentils yet? They pack all of the versatility of rice with a better nutritional profile (and they taste pretty great too.) Add this super-satisfying, vegan-friendly recipe to your winter soup rotation for a savory bowl that comes in at just 280 calories a serving!
¼ cup extra virgin olive oil

1 medium yellow or white onion, chopped

2 carrots, chopped

4 garlic cloves, pressed or minced

2 tsps ground cumin

1 tsp curry powder

½ tsp dried thyme

1 large can (28 oz) diced tomatoes, drained

1 cup brown or green lentils, picked over and rinsed
4 cups vegetable broth

2 cups water

1 tsp salt, more to taste

Pinch red pepper flakes

Freshly ground black pepper

1 cup chopped fresh collard greens or kale, tough ribs removed

Juice of ½ to 1 medium lemon, to taste

1 tsp rosemary, for garnish
PRO TIP: Though carrots are traditionally peeled, the skin is totally edible and nutritious! Reduce your food waste and increase your nutrient intake by cooking with unpeeled carrots.
Pour olive oil in a large pot over medium-high heat.

Once hot, add the chopped onion and carrot. Cook until the onion is translucent and fragrant (about 5 minutes).

Add garlic, cumin, curry powder and thyme, stirring for 30 seconds. Add the drained diced tomatoes and cook for a few more minutes to allow the flavors to absorb.

Cook the lentils by adding broth and water to the pot with 1 tsp of salt, a pinch of red pepper flakes, and black pepper.

Bring to a boil then reduce heat to a simmer for 30 minutes.

Puree two cups of the soup with a blender or immersion blender and pour it back into the pot.

Stir in chopped greens, cooking for 5 more minutes, until soft.

Remove from the heat squeeze the juice from half a lemon over the soup and add more salt and pepper, to taste.

Serve hot and garnish your bowl with rosemary.

Calories 280
Total Fat 14g
Chol 0mg
Protein 8g
Sodium 492mg
Total Carbs 31g
Fiber 11g
Sugars 10g

Get everything you need online or in-store!


Download our quarterly guide for an exclusive taste of the latest health and wellness trends, brought to you by Market Street's Registered Dietitians.