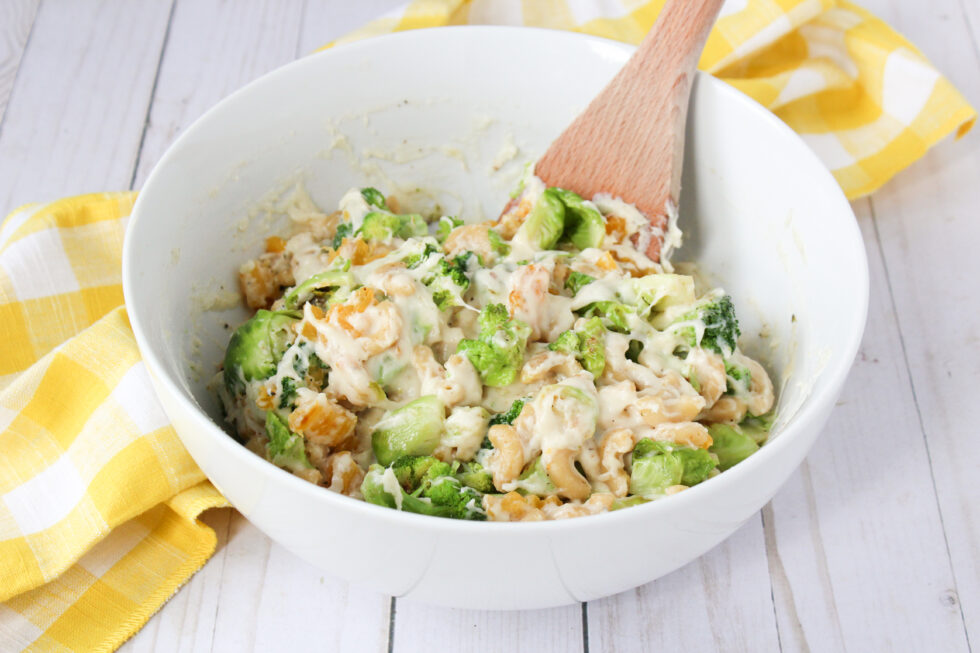 Veggie Filled Mac N Cheese

Plugging a few extra nutrients into a familiar favorite is always a win in our book. This roasted veggie mac and cheese is sure to have your kids gobbling down their veggies with the added bonus of calcium and vitamin D with the delicious taste of dairy!
What You Need
1 medium head Broccoli

½ pound Brussels sprouts

1 bag Butternut squash rotini fries

1, 60 second Barilla Pasta

1 bag Sartori blend (bagged regal or tuscan)

4 Tbsp. Butter

⅛ c. Flour

2 ½ c. Skim Milk

1 tsp. cayenne pepper

Salt and pepper asd desired
 How It's Made:
Microwave pasta and butternut squash according to package directions

Chop broccoli and brussels sprouts into ½ inch pieces

In a large skillet combine broccoli and brussels sprouts to sautee for 10 minutes

Add in butternut squash and pasta

Remove from heat and place in a bowl

Add butter to pan to melt

Whisk in flour until combined

Stir in milk slowly as to work through clumps easily

Once milk is warmed through add the cheese

Add the vegetables back in and coat them evenly
Calories 323
Total Fat 18g
Protein 20g
Sodium 338mg
Fiber 2g
Sugars 4g
Ready to Start Shopping?
Get everything you need online!
Shop Online