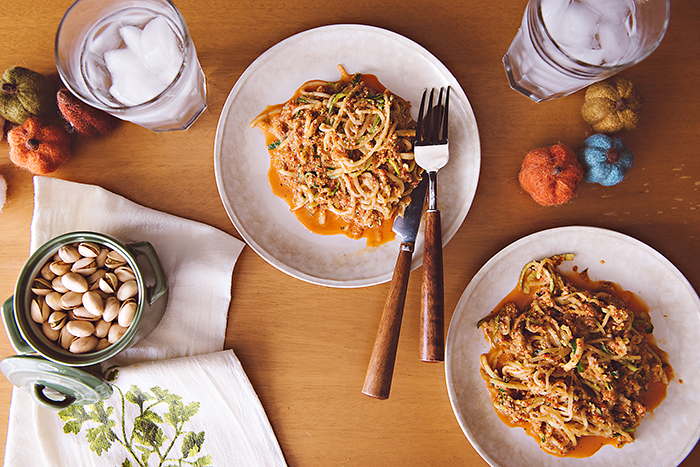 Veggie Noodle with Pistachio Red Pepper Sauce

Hit refresh on your go-to noodle dish with this zesty recipe made with veggie noodles, a nutritious alternative to traditional noodles that are so good, the only thing you'll be missing are the extra carbs.
What You Need:
2 Tbsps olive oil

1 cup onion, diced

4 garlic cloves, minced

1 jar (16 oz) roasted red peppers

1 cup mushrooms

2/3 cup low-sodium chicken broth

1/2 cup pistachios, shelled

1/2 cup feta cheese, divided

Salt and pepper

1 lb veggie noodles
 How It's Made:
Heat oil in a heavy skillet over medium heat. Sauté onion until translucent, about 5 minutes. Add minced garlic and cook for about 1 minute. Add roasted red peppers and mushrooms until heated through. Stir to combine ingredients.

Pour broth into vegetable mixture. Add pistachios and all but 2 Tbsp of feta cheese, season salt, ground pepper, oregano, and basil. Simmer for about 5 to 10 minutes. Remove from heat and allow to cool slightly. Process or blend ingredients until combined and smooth.

Sauté veggie noodles in oil for 5 minutes or until cooked through, add prepared red pepper sauce to noodles and heat through.

Serve and garnish with remaining feta cheese and crushed pistachios.
Calories 271
Total Fat 20g
Chol 17mg
Protein 17g
Sodium 396mg
Total Carbs 21g
Fiber 6g
Sugars 6g
Ready to Start Shopping?
Get everything you need to make our Veggie Noodle with Pistachio Red Pepper Sauce online or in-store!
Shop Online
Find My Store
Ready for a Second Helping of Health and Wellness?
Download our quarterly guide for an exclusive taste of the latest health and wellness trends, brought to you by Market Street's in-house nutrition experts.