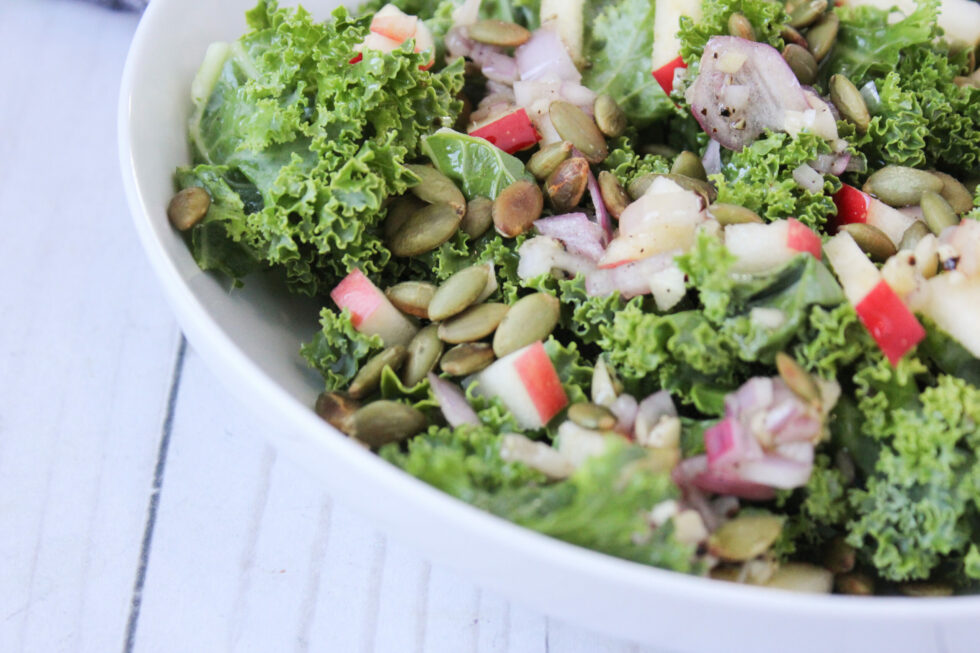 Warm Kale Salad with Apples and Toasted Pepitas

This kale salad is excellent as a side dish or add some protein and call it the main dish. Warm fall flavors have been calling our name and we can't get enough of it.
What You Need
1 Bunch Kale
1 Medium Apple
1 Shallot
2 Clove Garlic
2 Tbsp. Toasted Sesame Oil
1 Tbsp. Vinegar
½ Tbsp. Maple Syrup
¼ c. Pepitas
Salt and Pepper to taste
 How It's Made:
Dice apples in ½ inch pieces

Mince shallot and garlic

Combine shallot, garlic, toasted sesame oil mix

Tear kale into small pieces off the stem and add to a large bowl 

In a small pan over medium-high heat toast the pepitas (about 8 minutes, the will start cracking when they are becoming closer to finishing)

To a large bowl add the kale, apples, pepitas, and dressing and toss to combine
Calories 158
Total Fat 11g
Cholesterol 0mg
Sodium 46mg
Carbohydrates 15g
Fiber 3g
Sugar 9g
Protein 4g
Ready to Start Shopping?
Get everything you need online!
Shop Online