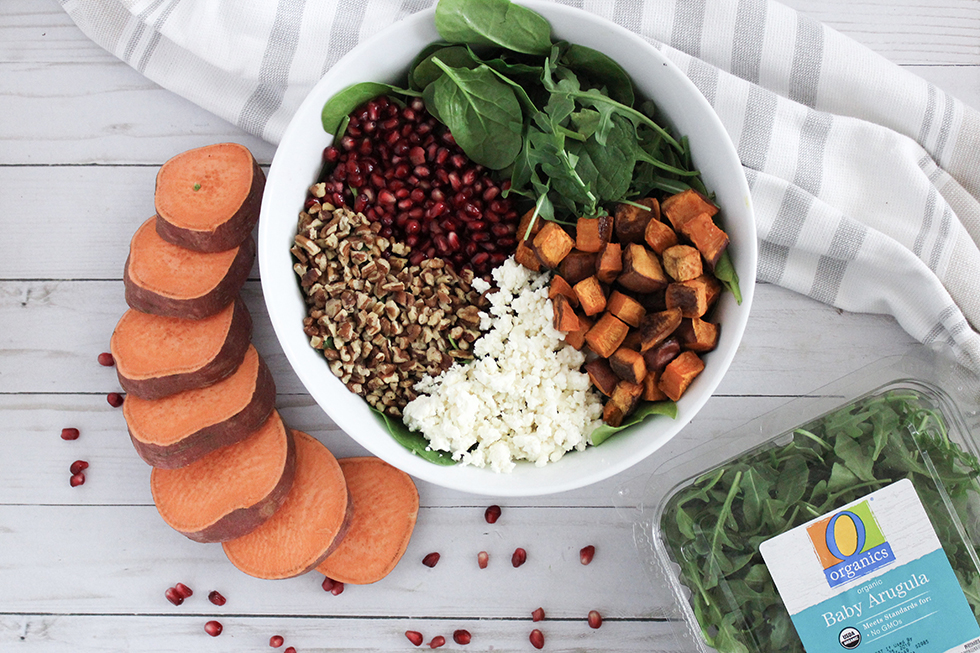 What's In Season & A Seasonal Recipe

A great way to watch wallet while increasing flavor in your dishes is to focus on what's in season. In the south, we have a limited growing season with how hot it is so we rely heavily on fresh ingredients coming in from other places or our canned and frozen options that were picked at their peak perfection and then sealed in with a small process. Here's what's in season:
Pumpkins

Beets

Turnips

Onions

Greens

Spinach

Baby Arugula

Lettuces

Radishes

Sweet Potatoes

Leeks

Fennel

Cilantro

Parsley

Tomatoes 

Pecans
Add this local seasonal salad to your weeknight rotation! You won't regret it.
Ingredients
1 container Spinach
1 container Arugula 
2 medium Sweet Potatoes
½ c. Pecans
½ c. Pomegranate seeds
½ c. Feta Cheese
6 Tbsp. Olive Oil
4 Tbsp. Champagne Vinegar
½ tsp Thyme
Salt and Pepper
Directions
Turn oven on to 400 F.
Cube sweet potatoes. Place on pan and lightly drizzle with olive oil. Sprinkle with salt and pepper. Roast for 25 minutes.
Place spinach and arugula in bowl and toss to combine. If you want to serve the salad first for presentation create a section for each ingredient (look at picture). If not, evenly disperse pecans, pomegranate seeds, parmesan cheese and sweet potatoes.
Serves 4.
Nutrition: Calories 382, Carbohydrates 23 g, Sugar 8.5 g, Protein 8.75 g, Fat 29.75 g, Cholesterol 25.25 mg, Sodium 356 mh.