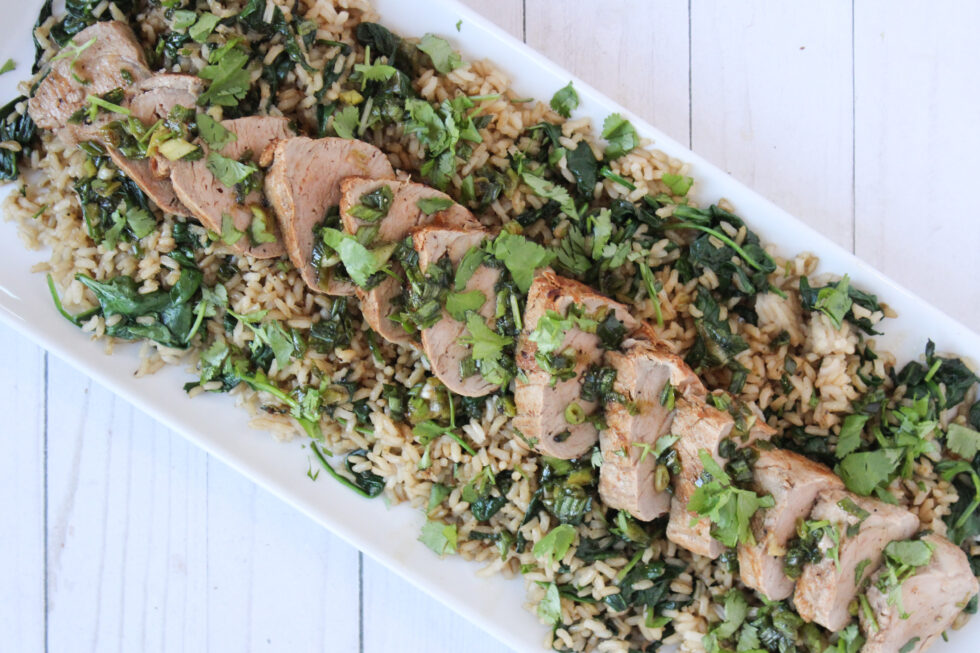 Asian Pork Tenderloin Dinner

Every year we talk about heart health in the month of February from lower sodium products and recipes, lower fat products and recipes, lower sugar products and recipes and so on. In the same light we also talk about how to increase or add things like more fiber, fluid, and protein to your lifestyle. We've got you covered with those things below:

 

How to start living a heart healthy lifestyle

Heart your cart with adding these things

 

So let's talk about recipes shall we?! Any great chef will tell you that salt is a main pillar in creating a dish, and they aren't totally wrong. Salt has some wonderful benefits both nutritionally and flavorfully. What we suggest in this area is that you salt things minimally or not at all and let each individual add the amount they desire to their dish. 
What You Need
1 lb. Pork Tenderloin
½ tsp. Paprika
½ tsp. Onion powder
½ tsp. Garlic powder
½ tsp. Black pepper
1 Tbsp. Canola Oil
1 small bunch Scallions (about 5-6)
1 Tbsp. Toasted Sesame Oil
2 Tbsp. Rice Wine Vinegar (or White Vinegar)
2 Tbsp. Coconut Aminos
2 Tbsp. Honey
1 Tbsp. Fish Sauce
¼ tsp. Ground Ginger
¼ tsp. Garlic Powder
2 pkgs. Uncle Ben's 90 Second Brown Rice
1, 5oz pkg Arugula
¼ bunch Cilantro
 How It's Made:
Preheat oven to 400

Preheat a cast iron skillet to medium high heat and place in canola oil

Combine paprika, onion powder, garlic powder, pepper in a bowl

Season pork tenderloin with spice mixture

Place pork tenderloin in cast iron skillet and flip to it's second side after 2 minutes (repeat this 4 more times for a total of 5 flips)

Finish the meat by placing the cast-iron skillet in the oven for 7-10 minutes or until internal temperature reads 145 degrees Fahrenheit

Slice scallions both whites and greens

In a bowl combine together the scallions, toasted sesame oil, rice wine vinegar, coconut aminos, honey, fish sauce, ginger, and garlic

Heat sauce in microwave for 15-30 seconds to help loosen the honey

Cook minute rice in the microwave according to package directions

Once the pork is done, let it rest on a cutting board and use the same pan to then wilt the spinach

Add in the rice and quinoa to the arugula

Roughly chop cilantro and garnish with it
Calories 228
Total Fat 6g
Cholesterol 40mg
Sodium 271mg
Carbohydrates 33g
Fiber 2g
Sugar 8g
Protein 19g
Ready to Start Shopping?
Get everything you need online!
Shop Online